Greg - President:
This week has been a great one for winning new contract accounts and special service projects. We have a new large window washing project for a downtown apartment complex which we're excited about. And two new contracts: one for an asphalt plant in the northern side of the cities and the other is for a local real estate firm. We love growing and showing how we can save our customers time, effort, and energy!
Dick
, Kelly,
Mitch
, and I participated in the 2010 Hoop-a-Thon fundraiser aiding the Huntington's Disease Society of America on Sunday. City Wide was one of the sponsors, and it was such a fun day! In a 5-minute span, I made 56 freethrows,
Dick
made 19,
Mitch
made 14, and Kelly made a total of 18.
It was great to be a part of such a neat and rewarding event.
This weekend we are also aiding in a spring touch-up project of sorts for our housing association. Many of our townhome complexes have front door and garage frames that need to be sanded down and repainted. Our crew started last night and our doors are looking spectacular! I can't wait to post the before and after pictures.
It sure is fun to watch the Twin's this year! They have had such an amazing start to the season. It doesn't hurt that the new stadium is beautiful to look at too ;-) Let's go Twinkies!
At any given point this weekend, you will most-likely find me with a paintbrush in hand. Kelly and I are upgrading the basic painted walls in our downstairs living room by adding some high quality satin-matte finish paint with a splash of color. Let's hope we're successful!
~~~~~~~~~~~~~~~~~~~~~~~~~~~~~~~
Shalee - Administration Manager:
What a gorgeous week! It seems that the wonderful weather is bringing out the best in all of us. We've talked several prospects via the phone this week, and I even had a great off-topic call with new friend Bob (who we hope will soon be a new client too!) I'm totally taking my family to Wild Mountain after hearing all about the wonders of skiiing! Watch out next winter... we'll be on some of those hills!
Last Saturday, my family was able to enjoy more time with Greg and Kelly since they invited us to go for a boat ride with them. They have a BEAUTIFUL speedboat and that baby can crank it up there! Much to Greg's chagrin, we actually were airborne for a few seconds! Of course my son was begging to do it again. :) The day was clear and gorgeous, full of warm sunshine. It was totally worth my looking like Rudolph for the first few days of the week!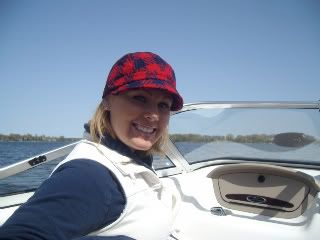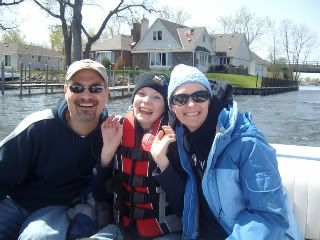 Look as me. I'm such a wimp in my winter coat!
~~~~~~~~~~~~~~~~~~~~~~~~~~~~~~~
Kelly - Business Development:
... and all of a sudden it's Friday and the weekend is upon us! I feel a little like a broken record, but once again we've all had quite the busy week!
I feel like every time I turn around there is another special service project to bid out for one of our current customers, which is spectacular news! I love being a part of the bidding/proposal process and then seeing it get approved and turn into great service for our customers.
I edited a video from
Tyler
this week for a special service parking lot project. You can check it out
here.
I think it turned out great!
We have giant hopes to knock out a lot of painting at our home this weekend.
Greg
and I have never really painted before, so let's hope we make it through successfully :-) We've recruited
Dick
so (finger's crossed) things will move quickly!
~~~~~~~~~~~~~~~~~~~~~~~~~~~~~~~
Tyler - Facility Service Manager:
Yet another crazy week in the North Metro!! I'm still battling this spring sickness so it's been pretty grueling.
We're growing! I have 3 new accounts starting up at the beginning of May here. We're ready to go and excited to establish new relationships with new customers. I've also been performing a ton of hard floor care, stripping and waxing, window cleaning, parking lot sweeping, etc. Springtime at City Wide is a very busy time of the year!
We've recently introduced a "Who's HOT, Who's NOT" program for all City Wide partners working in our accounts. This helps keep everyone accountable and on their toes. We reward the people going above and beyond in our accounts with gas cards, gift cards, etc. At the same time, we retract the people not doing so well by replacing them in certain accounts to let them take one step back, regain composure, and gain the ability to handle more accounts in the future. Stand by for an update within a few months of this process being implemented!
How about those TWINS?? They're off to a terrific start! I have not had a chance to catch a game yet, but I heard that the stadium is AMAZING. The weather has been great too! I'm looking to get a round of golf in this weekend which should be fun. Until next week, Adios!
~~~~~~~~~~~~~~~~~~~~~~~~~~~~~~~
Mitch - Facility Service Manager:
Here we are flying through another busy week! Spring projects continue to take the forefront of our customers' minds and we are here to help. Carpet cleans, floor waxing, parking lot maintenance and line painting have been filling up our schedules. At another building in town we are cleaning carpets in the common areas. We're also providing a great value to their tenants by offering to clean their carpets upon request at great discounted rate since we are already on site!
This Saturday is a busy one for me. I'm helping out with multiple maintenance needs at my church with a large group of other volunteers to update paint in entry ways, heavily used hallways, and the always beat-up youth room. Later in the evening, I will have to slip away from whatever I am doing to rope off entryways to a parking lot we are sweeping in the morning. The lot is partially shared with a church next door that typically uses their building entrance and some of their parking spaces. We worked closely with the head administrators at the church this week to figure out how we can accommodate their needs while successfully getting the customer's lot swept and line striped. It also led to an opportunity in the future when they move forward with striping
their
lot and some other possible building needs!
Sunday morning I will bring out our video camera to start another video for Kelly to edit and post for us. This one will cover some more lot sweeping, and also some line painting. This is a much bigger lot with heavier traffic than some of the other properties we manage, so we are adding some more unique features like a cross walk with stop lines and a "Pedestrians Crossing" stencil to help slow people down in the lot and prevent injury. We will be adding a few spaces and also covering some wide areas of entrance ramps to prevent people driving off the side of the ramp… it actually happens more than you'd think.
Weather permitting, today we will be painting lines at a bank here in town that we've managed for quite some time. They are excited for a little parking lot refreshing since its been a while since it was done. If the rain gets in the way, we will push the project to Sunday after we complete the bigger project. Should be eventful leading in to the weekend, hopefully I can squeeze in a little fun amongst all the madness!
~~~~~~~~~~~~~~~~~~~~~~~~~~~~~~~
~Your City Wide Team