Greg
- President:
This week has seemed to fly right past me! The quickness is probably in part to a super busy week—we've actually started six new buildings this week! One of those contracts happened to be a very short-notice start—as in, we were asked the
day of
to start that evening! Of course my team here at City Wide jumped on the opportunity to help the customer and we were able to organize a walk-thru and set up a great crew to provide excellent service for this customer. Phenomenal work, operations team--
way to go!
On Tuesday, Shalee and I were able to enjoy a Twin's game against the Detroit Tigers as a get-together for one of our association committees. The seats were up in the Budweiser Deck of the stadium and even though it rained on us and it was a bit chilly, we still had a fantastic time. What a game!! We also met a lot of nice and friendly people from Merill Lynch.
On Thursday, I attended a RJF Agency seminar regarding preventing claims on housing associations and how to handle claims once they are reported. This seminar was extremely educational for me, as we've just started taking on a few maintenance contracts (painting, etc) for a few area townhome associations. I'm excited to see this area of our service expand and take off!
~~~~~~~~~~~~~~~~~~~~~~~~~~~~~~~
Shalee
- Administration Manager:
Hey! Did you know it was my birthday on Monday?!
No?
Huh. I thought it was a national holiday or something... Well, it
should
be! (It is around our house.)
Being new to the area, it was just a family affair this year, but just wait til next year. We'll have lots of fun with friends as I make my way into "the new 30's".
My family outdid themselves. I was taken out for breakfast (donuts and apple fritters!), had an Ariel birthday party with a homemade
Savannah Cake with Hot Fudge Sauce
, was given chocolate, books, wine and jewelry (some of my favorite things!), and then they took me out to dinner and bowling... I felt just like a kid having the day of her life!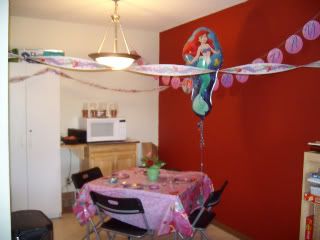 I even reached the triple digits in the score. 100 baby!
My daughter even got in a good jab about being so much taller than me, despite it being a well known fact that three-forths of the world is taller than me!)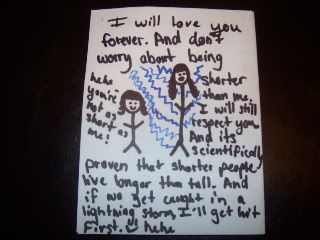 Work was really kind too! Kelly brought in cupcakes and the office gave me a gift card to Le Gourmet Chef. Oh the fun I had in that store, spending money! My shiny new food scale is perfect for weighing out food that I get from Sam's Club!
Greg and I followed up that wonderful birthday by attending the Twins Game at the Chamber event on Tuesday night. Oh! My first Twins game, and they won! I met some wonderful people and had a blast talking with others, especially since they were kind enough to share their umbrellas when it rained. (Greg was still by biggest hero though; like an idiot who hasn't learned what it means to live in Minnesota yet, I was totally unprepared for the chilly night. I had nary a jacket or long sleeve shirt to combat the cooling of the eve. He gave me his Twins jacket whilest braving the elements, all in the name of chivalry. Totally wouldn't have made it an hour were it not for his kindness!)
The rain, though pleasant enough, didn't stick around the entire time. And look at what God let us see afterwards!
I think a good time was had by all...
I'm just wishing that it could be my birthday again THIS week! It was too much fun for just one day...
~~~~~~~~~~~~~~~~~~~~~~~~~~~~~~~
Kelly - Business Development:
Welcome, May! Unfortunately, this week hasn't been full of nice spring weather-- strong winds and chilly temperatures! Where is spring? At least we're getting some much needed rain this week!
This week has been a good one at the office! Shalee and I have had the time to attend to a few miscelaneous office administrative projects throughout the week. I also edited and uploaded another
video
showcasing a fantastic parking lot striping project for one of our customers.
On a personal note, earlier this week I was adjusting from such a fun birthday weekend in Kansas City. Every time we travel down to Kansas City, it's whirlwind and it really seems to drain me for the following few days! We had quality time with my family, had a blast at the Indy race at the Kansas Speedway, and even had the time to see one of Greg's cousin's new baby boy, Alexander!
This weekend I plan to watch the movie, "Iron Man 2" with Greg, do a little bit of spring shopping, and attend to a few finishing touches on our painting project from two weeks ago. Perfect activities for a rainy/chilly weekend if you do ask me! :-)
~~~~~~~~~~~~~~~~~~~~~~~~~~~~~~~
Mitch
- Quality Control Manager:
The saga of becoming a home owner becomes more & more interesting! I have been on the purchasing end of a short sale for 15 weeks of complete madness! We still do not have a firm answer and don't see anything extremely promising in the immediate future. To top it all off, I need to be out of my current residence by the end of the month, hopefully something works in our favor soon here as we approach the end of May and the wedding in mid-June!
Check out the latest
video
that Kelly put together for me on parking lot striping. We have been working on the same 2 projects for over two weeks now due to the frequent rain and heavy wind gusts. We were unable to finish the stenciling at this point because the wind gusts are so high it will blow the paint, so we are on standby. Hopefully we can wrap these projects up this weekend because we have another striping job scheduled for the weekend of the 15th as well!
Two of my customers in the south just signed up for some quarterly routine work that we will be performing for them. One project is machine scrubbing their entire warehouse for them and an initial cleanup next week prior to their owner coming into town for a visit. We will also do a super detail clean of the entire property to make sure it's very presentable for his arrival. The second contract is for HVAC routine maintenance. I am excited for this one as it is my first routine maintenance contract. We have been working closely with our current contractor on individual service calls for random electrical and plumbing issues, quarterly checks, filter changes, and heating/cooling startups in spring and fall! We were able to save the customer some money, while providing them a more detail oriented scope of work and myself as a single point of contact which made it an easy decision for them to sign on with us!!
Cold weather continues to push through :-( I'm getting excited for my vacation time at the end of the month which will be a combination of moving my stuff to a new residence or possibly a nearby Public Storage! I will probably have a lot of free time (perhaps stand-by flights are in order for Baton Rouge or Phoenix??). A friend of mine asked me to be a guest speaker to her class of high school students so I am looking forward to that. I haven't had any opportunities to speak, teach, or mentor since the last time I was volunteering for Young Life, so I'm excited to get in front of a group of students and educate and answer any questions I can for them!
~~~~~~~~~~~~~~~~~~~~~~~~~~~~~~~