Greg - President:
This week has been a fabulous week! I worked one day, attending the IREM Golf Tournament as a player. We had a City Wide Maintenance tent set up to meet some people (which Kelly and Shalee manned), but I had the fun of playing in the tournametnt! I even took home a prize for the longest drive on hole 12...
The rest of the week has been really hard. Kelly and I went to Colorado for a friends wedding. There I was forced to play 3 more golf games. It's a tough job, but somebody has to do it!. Seriously, it's our first vacation in forever and it felt great to get out and recharge myself with friends and relaxation.
Now I'll be really ready to hit the office come Monday where I have yet another golfing event to attend. Oh yeah... I'll be ready!
~~~~~~~~~~~~~~~~~~~~~~~~~~~~~~~
Kelly - Business Development:
I attended my first golfing event this week! Too bad it was so cold and rainy on Monday. It made for a long day when all I wanted was to meet others in the sunshine! Oh well. Maybe our golfing event next week will be sunny! :)
We had a blast at the hole watching the players in the Marshmallow Drive. The winner won a $50 gift card to Stella's Fish House. I LOVE Stella's! I found these MONDO marshmallows at Cubs and seriously, they were the talk of the day! Everyone wanted to know where I found them. I think some HUGE s'mores are going to be on a lot of people's menus!
The rest of the week has been perfect! I rode in an airplane (which is one of my favorite things ever), I visited with lots of friends doing all sorts of girl stuff, and I was able to wear my new dress to the mountaintop wedding. I really needed this break. It's amazing what time away can do to the spirit! Now I'm ready to take on next week!
~~~~~~~~~~~~~~~~~~~~~~~~~~~~~~~
Shalee - Administration Manager:
What a great couple of weeks it's been! Busy as I'll get out, but fun!
Work is always go, go, go, but I was able to incorporate a few different things into the lineup! Last Friday, I attended a service project, Project for Pride in Living. It was awesome to work with about 8 other people, tearing down an old play area so that a new interactive, educational garden could be built in the next few months. It was hard work and it showed me that I had muscles I didn't even know existed! My fellow workers were uber-nice and we had a good time as a team. All I can say is thank you Jeff for bringing a bobcat! What a back saving device!
On Monday, we had the IREM Golf Tournament. Being that it was my first event as such, I had no idea what to expect, nor did I know how cold it could get! It's June, for goodness sake! Fortunately for me, I was inspired at the last second to bring a lap blanket "just in case". Kelly and I made great use of it as we sat and talked with our hole buddies from ACI and meeting the golfers!
With Greg and Kelly out of the office, it has been pretty quiet. However, it was just as busy as usual! I've been reorganizing our IC Certification Handbook, and that puppy has taken a TON of my time! It will be worth it to have it all done though.
Wednesday evening, I attended the CAI Annual Meeting/Awards Dinner. I have to admit it was harder to go to this one all on my own. I didn't know a soul. I tried to mingle well, but I had to give up because everyone was in their clique/discussions. I took my drink and sat at a table, knowing that dinner would start soon. A lady came up to me to ask if she could sit with me and, with relief, I gave a resounding 'Yes, please! I don't know anyone and was feeling like a wallflower!" She said that she was new too and thus began our conversation. Soon others joined us, asking to sit at the table. We discovered that we were all newbies to CAI! It IS a small world after all! (Sing it in your head. You know you want to!) :)
Friday, I'll be at Pot-a-Plant, a wonderful service that IREM helps to sponsor at Special Olympics. I have a feeling that it's going to be a gorgeous day for it!
On a personal note, we've been kids-free for a week, so Paul and I have enjoyed acting like honeymooners again! Dates, talking later in the night (for us) and kissing way more because we don't have anyone saying "Gross..." in the background. :)
~~~~~~~~~~~~~~~~~~~~~~~~~~~~~~~
Mitch - Quality Control Manager:
Mitch is too busy for his own good! Had to take some vacation time at the end of May and played catch up when I returned. Then the last two weeks I've been getting ready to be gone again for the wedding and honeymoon… end result is a very busy 4 day week.
This week we received approval to do another parking lot striping job in St Paul. The customer signedo ff on the work and we plan on beginning it on Saturday early afternoon (weather permitting). Since I will be out of town on Monday, Tyler is stepping in and helping me close out the work with the customer to make sure everything is up to standard so we can smile and move on to the next thing.
One of my customers has some capital freeing up and is kind enough to attempt to direct a lot of it toward some tenant improvement projects that we have had on hold for over a year. I hope to get some positive movement on these when I get back into town and hopefully start planning some restroom renovations in a manufacturing building.
We are doing some carpet cleaning for a customer on short notice tonight, and bidding painting work for them tomorrow. I really enjoy when customers use us to our full potential, after all we are not just janitors, we are great managers. Not just a slogan, it is a reality when we get the chance to execute on it.
That's all I have, next time I'm blogging I will be much tanner, much more relaxed (hopefully), and officially married. See you all in a couple weeks!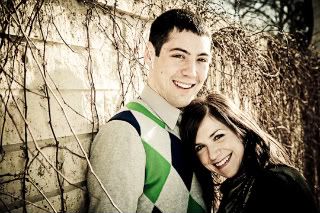 ~~~~~~~~~~~~~~~~~~~~~~~~~~~~~~~
~Your City Wide Team