Mitch Brunette - Facility Service Manager:
It has been a busy, busy week in the south metro as well as in the apartment community for move-ins and move-outs! We have been all over town completing turn cleans at various communities each day, and on Thursday this week we completed 41 turn cleans in one day! It took 15 great cleaners and a few managers to accomplish this. This is the second year in a row that we have completed this project with all the students moving out and new ones ready to move in the next day. The work alone is challenging enough, but you have to work around certain timelines of when individual units are available, when people are transferring out, and also having to work around painters and carpet cleaners/installers! It's one busy project!
Next week is going to be very busy with schools kicking off in full force. We service several different types of schools in the Twin Cities. Over the summer we have either had light cleaning duty allowing us to complete extra work and very detailed cleaning, or they were shut down and we are just picking back up to begin the year. One of the schools we have partnered with for over 3 years and have had a great relationship from the start. Another one of our schools is new and this will be our first year with them, we look forward to a long lasting relationship here!
Over the month of August we covered several different projects including diamond pad refinishing a worn out terrazzo entryway floor for a large condo client. The customer absolutely loved it and couldn't believe that it looked nearly like new again!
We swept and scrubbed the floor of a freight dock in preparation for a visit from the CFO of our client's corporation. It went very well and I took a video of that. Kelly will load that video up in the next couple weeks so you should be able to view the before, during, and after results of the floors cleanliness.
Other projects included some window cleaning, painting, pressure washing, and I'm sure many more things to help our customers out with their site.
The Labor Day weekend is welcomed with open arms! I had a nice 3 day weekend last weekend to help setup my sister-in-law's wedding down at the farm. The wedding and reception was incredible! This weekend several old and new friends and I are headed off to our annual camping tradition in Cloquet, Minnesota (that's pronounced CLO-KAY, not CLO-KET, despite popular inter office thought) This is the same campsite I have visited for nearly every year of my life at least twice per summer if not more. I'm looking forward to the time away and hanging out with all of our newlywed friends from this summer.
~~~~~~~~~~~~~~~~~~~~~~~~~~~~
Jarrad Nickolite - Facility Service Manager:
Things have been pretty busy here this week in the west metro. We were able to finish several wet burnish and carpet cleaning jobs this week for one of our bigger customers. We will be completely rapped up with this by the end of next week.
Now that summer is almost over, we're looking ahead to winter here at City Wide. This means that we are starting to prepare for snow removal and I was able to submit my first snow removal bid to one of our customers. I can't believe how fast the time really goes! It feels like yesterday was spring time.
Wednesday evening Greg and I fished in a bass tournament and realized we have a lot of room for improvement. We caught some fish and placed in the top 10 which is not bad considering how tough the competition really is.
I would like to wish Greg and Eric a HAPPY BIRTHDAY and hope they have a good holiday weekend.
This weekend Lana and I will be taking a few extra days over the holiday weekend to spend some time at the cabin before it's all over. We plan to do some golfing and fishing. Should be a great weekend!
~~~~~~~~~~~~~~~~~~~~~~~~~~~~
Shalee Shields - Administration Manager:
Well, it's been another fast and furious week for me at work. It seems as if I were just grumbling about it being Monday again! :)
We have been working hard with our clients and potential clients on the snow and ice management that we offer. I know! Snow! I can't believe it is already to the stage were we need to even think about snow and ice! We only just started having summer... (sad face) But it's better to be prepared than to get caught with
nothing
in place and suddenly we have snow in October.
This week marked new chapters in our lives at our house.
First, we celebrated Taegan's 15th birthday. (She turned 15 in July, but since she was away all summer, we had to do it when she returned.) She had an outdoor party (Thanks God for the great weather!) and then we hit FMSC for a packing celebration!
We were blessed like crazy with sports this week! Since Jarrad couldn't go to the Twins game on Sunday, I took this girl to it.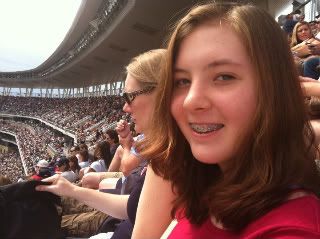 We saw this site where the Twins beat the Tigers 11 to 4! My girl said that she would definitely go again. That is a HUGE step in the right direction with her and sports!
Our son has been preparing for Middle School. Where on earth has the time flown?! He is ready for it. I don't think he's too nervous because he is just going with the flow. Come to think of it, neither am I. He is a good kid and has the ability to adapt. I think he'll be just find.
I took off Wednesday to go to the fair with the family. We even took our daughter's boyfriend! It was a total blast, and I, for one, will never attend the fair on the weekend again. It was AWESOME to have the place almost to ourselves! We had no lines for anything... the only problem is that we didn't have enough "wait time" to let our food settle so that we could put more down our gullets! :)
Finally, last night, thanks to the generosity of Mitch, Paul and I headed to the Vikings game to watch them skunk the Texans, 28-0! (Notice that the teams win when I'm there?! Someone needs to buy me season tickets if they want winning club... I'm just sayin'!
~~~~~~~~~~~~~~~~~~~~~~~~~~~~
~Your City Wide Team